Esa Kotilainen: Turquoise Planet
---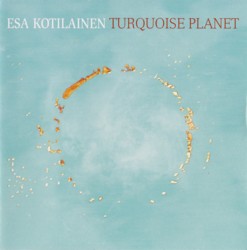 Lasitunturi 3:35
Jääpuikko 5:29
Turkoosi Planeetta 8:28
Sumuinen Uni 4:27
Korpi 10:34
Ruska 6:36
Tundra 6:22
CD: Presence Records PRECD 018 (2009)

Music composed, played, arranged, recorded and mixed by Esa Kotilainen at Musapaja studios
Mastered by Sami Sarhamaa at Perfect Sound Studios, June 2009
Cover by Jani Rämö from the original idea and photo by Leena and Esa Kotilainen
Booklet inside photo by Heikki Jokiniemi

Reviews:

Petri Silas, Soundi 11/2009.
Pale Saarinen, Rytmi 05.01.2010.
Cor Smeets, Background Magazine 2010?.
Tim Jonathan Kleinecke, Nordische Musik website 201?.