Jim Pembroke: London to Helsinki to Kansas City
---
Pictures and text © Esa Järvi 2000 (except for the lyric excerpts)
---
Musician and songwriter Jim Pembroke went to Finland just to visit, and stayed some 30 years. Now he lives in Kansas City. His career includes the years in Wigwam, but also gives a good picture of the way rock music in Finland developed.
---
Part 2: Wigwam Lineups 1 and 2 - Wigwam Version 3 - Ronnie - Songwriting and the Light Ages Wigwam
Part 3: Work with Remu - Kansas City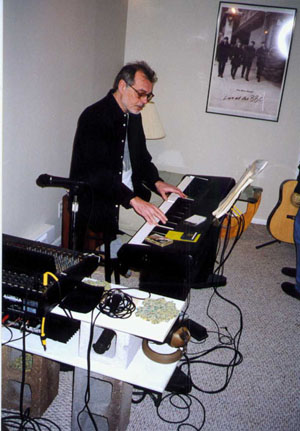 Part 1
Jim Arrives in Finland
EJ: You came to Finland in 1965 and you were in your early twenties?
JP: I was 19. I was just 19 when I came to Finland. It was "vappupäivä" (or aatto?), 1965. Nobody told me about vappu (May Day), so I thought…well I came by ship into the harbor in Helsinki, it was vappu, and not knowing anything about it, I thought, WOA! Things look lively here! Did I catch the wrong boat and wind up in Rio de Janeiro! So that was my first impression of Finland. I met a Finnish girl in London in '64 and she said to come to Finland in the summer of '65, and that's what I did. After a month or so, I was singing and toured all around Finland with what was then called The Beatmakers, which became Jormas, with Pepe Willberg, Ralle Wikstrom and those guys. . .
EJ: You weren't playing piano at the time?
JP: No, I just strummed a few chords on guitar. Learning to play guitar and eventually piano too, sort of came with the territory.
EJ: You finished school in England?
JP: Yeah, but I went to art school and I was supposed to…I thought I was supposed to be a commercial artist. At that time in Helsinki there were no art studios or commercial art places. But that didn't matter, there were so many gigs that came with various bands I was singing in.
EJ: They were mostly in Helsinki, then?
JP: All over Finland and Sweden.
EJ: Seems like in the first years you were playing the kind of material where you would end up playing every "tanssilava" (dance place) and who knows where.
JP: Every "kesälava" [summer dance place] and "kellari" [cellar].
EJ: Summers were busy?
JP: All over the "kesälavat" and all winter too and then I went back at the end of '66. I still thought my future lay in a commercial art studio. I went back to London. Anyway, to cut a long story short, I returned to Finland in February '67, ran into Ronnie Osterberg, Hasse Walli and Måsse Groundstroem. And they were talking like "let's form a blues band and make a record." I made songs for that, well we only made one LP with Blues Section.

EJ: You were a Finnish citizen at some point?
JP: No, they gave me an extended work permit. I still have a work permit (in my passport). I need to get a new pass in 2002. Until then I've got a … I can do gigs in Finland. In 1965 they would give me one month at a time for the permit. Then they gave you three months at a time. Then I got a year at a time. This went on and on for years. I thought of asking for dual citizenship. [They did not respond to this]. Then there was the European Song Contest...
[Jim wrote two of the songs that represented Finland in the contest. There seems to be some connection to the passport situation].
EJ: With Kojo?
JP: Yeah, and Riki also ["Reggae OK"]. After that, I was still asking about dual citizenship. "We can't do that". I was thinking, should I change, then? [citizenship]. I thought one more time, I said I want an "ikuinen työlupa" or "ilman takarajaa". Usually it took two weeks to get results. I asked for "ikuinen", perpetual. After about 6 or 8 weeks, the paper arrives to come down to Vuorikatu. They've given me a long, long extended work permit.
EJ: You were pretty settled in Finland at the time. You were married?
[Jim has a 20 year old daughter, Emma].
JP: No, I never got married. But Helsinki became my hometown. There seemed to be a need and a want for what I did (songs and lyrics). Especially with Love Records being born. Without Love records it could have taken a longer time for people like Blues Section Juice and Hector, Pelle [Miljoona], Dave [Lindholm] etc. to find an outlet. The legacy of Love Records goes on and on. Regards to Otto Donner and Atte Blom ('the mastermind of Finnish poppy-bullshit' as he liked to be known) [laughs]. That all came through Love Records. I think the talents of Juice and Co. would have come through anyway, but maybe it would have taken longer. I don't know. All I know is that Love was the only progressive record company around in Finland in the 60's and 70's.
EJ: In interviews from that 70's period, the trend was that the people thought they were doing something different. The magazines and record companies were "edistyksellisiä", progressive (almost like a political ideology).
JP: Most of the music was 'Iskelmä.' Cover versions of Italian ballads and Tom Jones covers. Well, there were Finnish lyric writers, of course. But mainly Europop muzak cover versions. That all changed with Love and Blues Section. No Finnish bands were writing their own music. Really there weren't any bands in Finland doing originals before Blues Section, but that all changed when Love Records came along. Well, Jimi Hendrix and Cream etc were exploding everywhere.

Before we discuss the bands in detail, I had asked Jim about his earlier days in London.

EJ: Were you much into music before you got to Finland?
JP: Yes, I was in a couple of bands in London, I actually left those bands in London, saying that I would be back. I never did go back to live in England.
EJ: Do you draw on any older type of rock or R&B?
JP: Well I was into blues before I went to Finland. Howling Wolf, John Lee Hooker, Jimmy Reed. They were my introduction to the blues. I was very much a blues fan.
JP: Eric Clapton, he used to play in a little club in '62-'63. Before the Yardbirds. He used to play with John Mayall. Eric Clapton was a big name in London (mainly) at the time. I must have been about 15 or 16. That's when I started the first band I was in. Then he joined the Yardbirds. I became a Yardbirds fan, seeing them playing. The 100 Club in Oxford Street, in London. There wouldn't be a lot of people. It was kind of Thursday night, The Yardbirds with Eric Clapton. They had a small following before For Your Love. Which was their big hit, which made Eric leave. He was very much into the blues. The Yardbirds were, too, but they turned over into a kind of pop music.
EJ: Did you get to meet him?
JP: No.
EJ: Too young?
JP: Yeah. I'd be at the club and he'd be at the bar. But I wouldn't say anything. I met Brian Jones once, just when the Stones were being…I had long hair (shows length). He stopped, looked at me, and he said "you've got longer hair than me!" He had the longest hair in the Stones.
EJ: So you never had much collaboration with English musicians?
JP: No, outside the guys in North London where I came from. We had a blues band. We played the club where The Stones and The Animals started.
Blues Section
It turns out there is a bit more behind this new band and new deal.

EJ: You were one of the early bands that Love Records signed.
JP: It was the first band for Love. It was the band that was formed because Otto Donner and Atte Blom said that we'll form Love Records. They wanted to start a record company. They wanted it to be different, "edistyksellinen", if you like. And so they talked to Måsse and me and Hasse and Ronnie and so we formed the band to make an album. Without Love Records, there would have been no Blues Section. Or maybe there would.
JP: During the Blues Section time my favorite bands were like The Who, The Yardbirds, Small Faces, Jimi Hendrix. I saw myself in that kind of musical setup. Kind of pop music. So I was writing songs in that vein. Call Me On Your Telephone, I saw that as a kind of Who song. And then there was Hey Hey Hey, after I discovered Hendrix. Another Blues Section single. We made two or three singles and one album.
EJ: It sounds as if you played a lot different stuff live than you ended up recording.
JP: Yeah, it was originally supposed to be a blues band because Måsse had seen John Mayall's Bluesbreakers in Stockholm. So the gigs were mainly blues jams and the songs we made we didn't play them live so much. Maybe they were a little different, so that the guys wouldn't bother to rehearse them (but they recorded them!). But it was very popular in the year that it was together.
Living in Finland
EJ: When you got a bit more well-known, were people always after you to be on this TV show or to give your opinion on something?
JP: Sure. That comes with the territory too.
EJ: I think at least Neil Hardwick was treated this way.
JP: I know Neil a bit. He has that off-beat British humour and a lot of good ideas for sketches and found a fine platform for it in TV Finland-Suomi. I was into the music and did TV shows with the different bands I was in. Finland was good to me, "hyvä maa", and I hope I, in turn, was good for Finland. Not everyone liked Wigwam music in the beginning. We would run into, like, "soittakaa tango!". But it's not that we had anything against the tango. The tango is a very beautiful kind of music. I believe there should be room for everything. But there are some people who have to have extremes: "No, it's got to be rock and no tango". And there will be "tango and no rock", you know. I didn't bother about it very much. I got asked a million times "why did I come to Finland?" and things like that. People are interested, so you answer a million times. In Finland I was lucky, because in Helsinki at that time there were young guys coming up playing guitars and drums, (Ronnie, Måsse, Hasse) talented young guys. I kind of walked in at the right moment, really. Because these guys were looking to get bands together. I arrived in Helsinki, I had all the Carnaby Street clothes and it was like "E.T. tulee Helsinkiin" [E.T. lands in Helsinki]. I didn't look like anything anybody had seen in Helsinki before. Satin shirts, velvet pants, Beatle-boots and long hair. That's the way I looked in London, singing in bands there, before Finland, so it was natural for me.
EJ: Were they ever rude to you?
JP: Oh yeah, of course. Guys would ask 'are you a guy or a girl' or, 'here's a markka for a hair-cut. The girls liked me, or my clothes, though (laughs).
EJ: You lived somewhere close to Helsinki?
JP: Oh I lived in many places, for years in Eira, other times Kallio.
EJ: Renting?
JP: Oh yeah. Kallio was good as a lot of musicians and actor friends lived there. Ravintola Cella was our headquarters. Töölö too. Kojo's home turf. Eira was good too.
EJ: You got around by car?
JP: No, ratikka, (sings) "Tramdriver", or too often, mittari [taxicab] if I was feeling rich and in a hurry (which I often did, hah). I never learnt to drive. In America you just have to know how to drive. Born in America, I would be driving, sure. I came from London and spent most of my life in Helsinki. You can get around in Helsinki , where-ever you want, in 20 minutes, just sitting on the tram, or in five minutes in a cab! (much better).
[Later we discuss the current situation. They get around Kansas City by their Jeep, Cady drives.]
EJ: You don't ride the bus?
JP: I've never been on a bus in America. Oh, once in NY City. It took like, an hour, to get half a mile.
EJ: Being an immigrant is a major part of your life.
JP: I didn't realize when I left London in 1965 that I was emigrating anywhere, I didn't realize that.

Part 2: Wigwam Lineups 1 and 2 - Wigwam Version 3 - Ronnie - Songwriting and the Light Ages Wigwam
Part 3: Work with Remu - Kansas City