Albums by Various Artists with Tracks by Blues Section
---
Perspectives '68 - Music In Finland
Football
Love Records LRLP 4 (1968)

Tämä jazzin suuntaan hilpeästi kurkotteleva kappale poikkeaa Blues Sectionin muusta levytysmateriaalista, ja on ehkä lähempänä yhtyeen keikkatyyliä. Biisissä revitellään välistä ankarasti sähkökitaralla, bassolla ja fonilla. Psykedeelisen sekoilun jälkeen palataan alun svengaavaan teemaan Pembroken äännähdellessä "tsuubi-duubi-däy, ou beibi", ja lopuksi hönkäistään ilmoille kappaleen nimi. Kappaleen säveltäjä on Eero Koivistoinen, mutta Castlen halpiskokoelmassa biisi on merkitty Nummisen-Nuortevan nimiin. Albumin toisella puolella kuullaan mm. Erkki Kurenniemen elektronimusiikkiteos Antropoidien tanssi, josta pieni pätkä päätyi myöhemmin Wigwamin Tombstone Valentinelle.
---
Reunion
For Mods Only - Lucy Jane
Love Records LXLP 502 (1970)
Love/Siboney LXCD 502 (2012)
Nämä pari vuotta Blues Sectionin hajoamisen jälkeen julkaistut kaksi biisiä ovat yhtyeen ainoita instrumentaali- ja stereolevytyksiä. Saattaapi olla, että silloin ne vasta purkitettiinkin. For Mods Only on popahtava versio jazzmies Archie Sheppin kappaleesta, kun taas pitkä Lucy Jane sisältää yhtyeen omiin nimiin merkittyä jazzahtavaa meininkiä. Rumpusoundit ovat aika hyvät - vaikka rumpali ei kyllä taida olla Ronnie - ja soitto svengaa riehakkaana. Välillä tosin basso ottaa erivapauksia ja poukkoilee omia reittejään. Footballin ohella nämäkin biisit antanevat aavistusta siitä millainen yhtye livenä saattoi olla.
---
Rock'n Roll Love Rock 1967-77
Call Me On Your Telephone
Love Records LXLP 523 (1977)
---
Finnish graffiti 2
Call Me On Your Telephone
Finnlevy FL 2000/2001 (1979)
---
Get On!: Compilation Of Rock 1967-1991
Call Me On Your Telephone
Amt AMTCD 2029 (1991)
---
Anna mulle lovee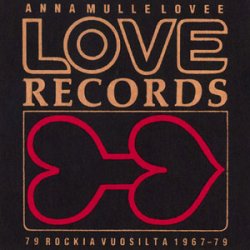 Hey, Hey, Hey
Love Records LXCD 605 (1994)
---
Love Proge
Semi-circle Solitude
Love/Siboney LXCD 613 (1996)
---
Love Proge 2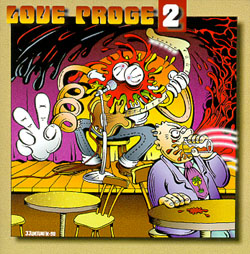 Shivers Of Pleasure - Sun Of Love - Football - Lucy Jane - For Mods Only
Love/Siboney LXCD 621A (1998)
---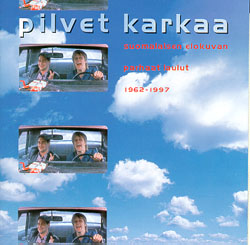 Pääskytorni - Hey, Hey, Hey
Love/Siboney LXCD 622A (1998)
---
Hasse Walli: Todellinen Live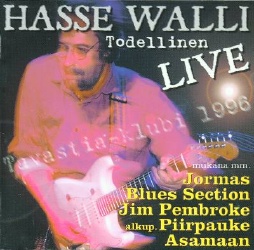 End Of A Poem - Wolf At The Door - Hey Hey Hey
HCD-02 (2001)
Recorded live at Tavastia, Helsinki, on 2nd October 1996. Line-up: Hasse Walli, Jim Pembroke, Eero Koivistoinen, Måns Groundstroem, Vesa Aaltonen, Frank Robson.
---
Arktinen hysteria - Suomi-avantgarden esipuutarhureita
Shivers Of Pleasure
Love/Siboney LXCD 635 (2001)
---
Suomalainen äänilevy 100 vuotta
Hey Hey Hey
ÄKTCD-100V (2001) (6CD box set)
---
Psychedelic Phinland - Finnish Hippie & Underground Music 1967-1974
Cherry Cup-cake Twist
Love/Siboney LXCD 651 (2006)
---
Loveradio 4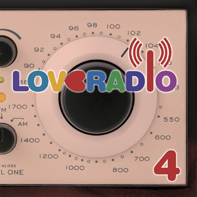 Answer To Life
Love/Siboney LXCD 656 (2007)
---
Otto Donner: Parhaita ottoja
Kirka: Anna suukko vain | Kirka: Avaruuslaulu | Ronnie Österberg: Ei kauempaa
Love/Siboney LXCD 670 (2009)
---
Love Show 45
Kirka: Anna suukko vain | Ronnie Österberg: Ei kauempaa
Love/Siboney LXCD 678 (2012)
---
Love Records - Kaikki singlet 1
Record 1: 7. Blues Section & Jim Pembroke: Call Me On Your Telephone 2'24 | 8. Blues Section & Jim Pembroke: Only Dreaming 3'23 | 9. Blues Section & Jim Pembroke: Hey, Hey, Hey 4'09 | 10. Blues Section & Jim Pembroke: Shivers Of Pleasure 4'37 | 11. Kirka Babitsin: Anna suukko vain 3'25 | 12. Kirka Babitsin: Silloin ihminen kaunein on 3'00 | 13. Kirka Babitsin: Avaruuslaulu 5'08 | 19. Blues Section & Frank Robson: Faye 3'39 | 20. Blues Section & Frank Robson: Sun Of Love 3'50 | 21. Blues Section & Ronnie: Kauan kuljen 2'49 | 22. Blues Section & Ronnie: Hei vaan 3'42 | Record 2: 1. Jim Pembroke Blues Section: Semi-Circle Solitude 2'48 | 2. Jim Pembroke Blues Section: Cherry Cup-Cake Twist 3'50 | 3. Otto Donner: Pääskytorni 3'39 | 4. Otto Donner: Kuka kertoisi minulle 3'25 | 5. Ronnie & Blues Section: Ei kauempaa 3'26 | 6. Ronnie & Blues Section: Kun yö hyväilee 3'17
Universal (2016)