Jukka Gustavson Organ Fusion Band: Between Fire And Ice
---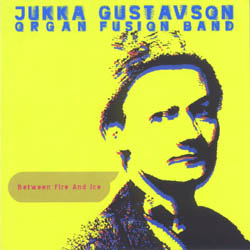 Liplatusta, kimmellystä, putputusta 5:04
Walkin' & Talkin' 5:55
Fraktaali symmetria 14:45
Ai ai ai vapaus on päässyt karkuun 10:44
Between fire & ice 6:35
Start & Run 5:39
I'm a bluesman 6:55
Syrjäännyt 8:25
Music & lyrics by Jukka Gustavson

CD: RockAdillo ZENCD 2082 (2003)

Jukka Gustavson, keyboards, voice
Juha Verona, bass
Pentti Lahti, woodwinds
Rami Eskelinen, drums

Recorded & mixed at Studio Brushane August/December 2002 by Martin Brushane
Produced by Jukka Gustavson & Juha Verona
Mastered at Finnvox Studios by Pauli Saastamoinen

Front cover photograph taken by Gunnar Överkil:
graphic design by Timo Numminen, Leena Toivola, Mina Jokivirta: text design Marja Konttinen
Co-ordination of all visual details: Marja Konttinen
Album design: Jukka Gustavson
Hammond action photographs: Mauri Helenius
Collage: Jussi Lassander
---
Rockadillo's info page
---
Reviews:
Rupatusta, höpötystä, hupatusta, by Jukka Hynönen, Suonna Kononen & Mikko Meriläinen, 07.03.2003.
Tulen ja jään sirkus, by Suonna Kononen, Karjalainen 19.03.2003.
Jarkko Nieminen, Rytmi 2/2003.
Jaan Wessman, Soundi 4/2003.
- - Hans Beck, May 2003:
Beyond his role as the cornerstone, keyboardist, singer and writer in Wigwam. This is his seventh soloalbum in 25 years. Connection of sorts found in Winwood's Traffic, Wonder's 72-74, Emerson's Nice and organgrinder Jimmy Smith. It also has a deep Canterbury feel with images from orchestral power of Monk, Weather Report and Mahavishnu. Five instrumental tracks and three with lyrics in English give away unique music with its own sentiment. No copycat. The music is uptempo and sparkles with joy. Keys (elpiano, synth and Hammond) go all over the place together with woodwinds, bass and drums. Everlasting catchiness and complexity combine. The vocal tracks have a foundation on a simpler formula compared to the instrumental tracks but also offer very much complexity and inventiveness. The title track is ultra catchy and should be a massive hit-single, reminiscent somewhat of a more uptempo version of such slowrunning Wonder tunes as You Will Know and Seems So Long. The touching lyrics reflect views that everyone easily could subscribe. Sharing love and music would make this earth a better place for more people than these days. The soulful vocal are like keyworks, exceptional and outstanding. The resemblance to the voices of Winwood and Wonder is, by the way, stunning. The music passes through unexpected phases, all glittering from unusual ideas, delightful in their sheer fluency presenting innovative jazzy rock. Sometimes blues, other times funk, and others again more introspective. The music goes all over places yet making the whole irresistible with especially shimmering Hammond play. Interesting themes with intensive energy level and strong compositions and melody lines. The title track reads: "Music is my great love - A vocation - You might say - A gift from high above - My great passion and my glow - My labour of love - I just had to realize, there's no compromise - My life is between fire and ice." It's a true masterpiece.