Jim Pembroke Singles
---
Jim Pembroke & The Boys: If You Need Me / Say Yeah
RCA Victor FAS 947 (1965)
Jim's first single consists of cover versions, a-side originally by Wilson Pickett, b-side by Wayne Handy. The Boys line-up: Kaj Westerlund (g), Timo Puustinen (rg), Lasse Kvist (b), Eero Raittinen (dr) + Rauno Lehtinen (tamb, sax). Recorded at the Electrovox Studio, Helsinki, November 1965. Engineered by Ronnie Kranck & Per Wallenius. Produced by Johan Vikstedt.
---
Jim Pembroke & The Pems: I Don't Mind, I Got Mine / Any Day
RCA Victor FAS 954 (1966)
The second single was already written by Pembroke himself, but the songs are yet rather harmless beatpop. A Finnish cover version was made of the b-side, see the covers page.
---
Click for a larger image

Do The Pigworm / Time To Make A Stand
Love Records LRS 2047 (1974)

Selections from Pigworm.
---
Jim & Mike And The Lead-Swingers: Street Café / Jordanian Holiday
Love Records LRS 2220 (1978)
A joint single with American born singer-songwriter Mike Westhues.
---
Jim Pembroke Band: Hard Top Lincoln / Golden Days
Ponsi PEAS 1004 (1979)
---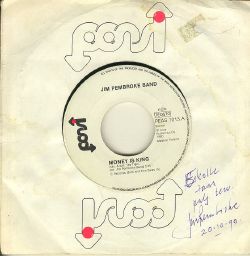 Jim Pembroke Band: Money Is King / The Nashville Do-Writers' Plan
Ponsi PEAS 1013 (1980)
The a-side, picked from Flat Broke, is an old calypso song which later found its way to Pedro's Heavy Gentlemen's Eucalypso album as a new version. Misprinted b-side's proper title is Nashville Co-Writer's Plan
---
Jimbo: Four Million Telephones / Midnight at Noon
Johanna JHNS 185 (1981)
A more ascetic version of the a-side was heard on Party Upstairs. Cd-version of the album includes these rocking pieces as bonus tracks.
---
Pedro's Heavy Gentlemen: Matushka - Mother (/ Sputnick)
Kerberos KES 153 (1983)
The best chart position in Finland: 6. (9/83)

A fine version of an old Russian folk song with vocals and English lyrics by Pembroke who is backed by his old bandmate Pedro's group.
---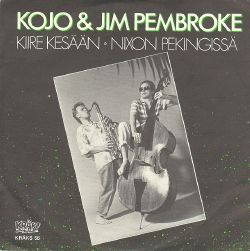 Kojo & Jim Pembroke: Kiire kesään / Nixon Pekingissä
Kräk! KRÄKS 56 (1985)
Picked from the duo's Bee tai pop album.
---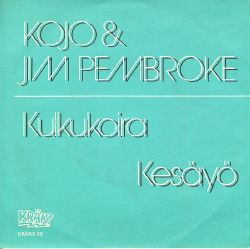 Kojo & Jim Pembroke: Kulkukoira / Kesäyö
Kräk! KRÄKS 63 (1985)
More selections from Bee tai pop.
---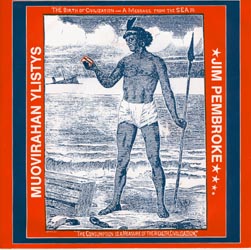 Jim Pembroke & The Tilintarkastajat: Muovirahan ylistys / Muovirahan ylistys (instr.)
Old Stars MK-001 (1987)
An oddity.
---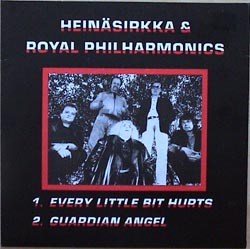 Heinäsirkka & Royal Philharmonics: Every Little Bit Hurts / Guardian Angel
Muurit murtuu -90: Sosialidemokraattisen Nuorison Keskusliitto SNK-45-5 (1990)
Arrangements by Jim Pembroke.