Wigwam Albums: Some Several Moons
---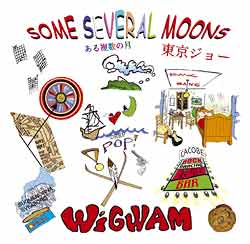 (Intro) 0:12
Chord Squad (Pembroke) 4:52
Sandpainting (Rechardt/Pembroke) 4:04
Bow Lane (Rechardt/Pembroke) 5:42
Kabul Grill (Rechardt/Pembroke) 6:03
Cloudy Dream (Pembroke) 9:33
Deep Pop (Before The Only One Comes) (Rechardt/Pembroke) 6:07
Squaw Valley Non-Event (Rechardt/Huldén/Pembroke) 9:22
Tokyo Joe (One Roll From Paradise) (Pembroke) 5:45
Banging On The Ceiling (Pembroke) 3:54
Cacobe Bar Two-Step (Pembroke) 5:06
CD: Major Leidén Productions MLCD 017 (2005)
2LP: Svart Records (2018)
---
Jim Pembroke, vocals, piano, backing vocals
Pekka Rechardt, guitars
Esa Kotilainen, keyboards
Jari Kettunen, drums and percussion
Mats Huldén, bass, backing vocals

Additional special guest musicians:
Michael Monroe, harmonica, tenor saxophone
Olli Kari, marimba
Ari Pitkänen, tuba

Recorded at Seawolf Studios, Helsinki, September 2004 - March 2005
Recording engineers: Virpi Immonen, Hannu Leidén, Mikko Poikolainen
Mixed by Hannu Leidén at Seawolf Studios
Mastering engineer: Hannu Leidén
Produced by Wigwam and WolfGang
Production coordinator: Virpi Immonen
Executive producers: Matti Kervinen, Hannu Leidén
Artwork & Concept: Jim Pembroke / Design Collaboration: Jim and Cady
Graphics editing: Cady Pembroke
Layout: Tomi Laaksonen

The best chart position in Finland: 28. (week 21/2005).
---
Reviews:
Jyri-Jussi Rekinen, Rytmi 3/2005.
Suonna Kononen, Karjalainen 17.05.2005.
Petri Silas, Soundi 5/2005.
Various reviewers, Prog Archives 19.05.2005-.
Esa Järvi, Palasokeri.com 02.06.2005.
Antti Saari, Desibeli.net 13.06.2005.
Taru Oksanen, Pop-lehti 4/2005.
Jeff Melton, Exposé #33, 01.05.2006.
Reginod, Progressive Ears website 25.09.2009.
Peppe di Spirito, Arlequins website 20??.
Claes Johansen, Nuclear Netclub 18.10.2018.