Wigwam Albums: Titans Wheel
---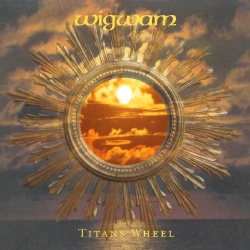 Remains To Be Seen (Pembroke) 5:45
Subterranean Sunrise (Rechardt/Pembroke) 4:03
Titans Wheel (Rechardt/Pembroke) 5:45
Drive On Driver (Rechardt/Pembroke) 4:47
Bitesize (Rechardt/Pembroke) 6:14
Greatfield (Pembroke) 5:40
Win Your Love (Pembroke) 3:42
Drinks On The House (Pembroke) 5:57
Good Mornington Street (Rechardt/Pembroke) 4:00
The Lost Lizard King (Ababacab) (Rechardt/Pembroke) 4:05
To The Other Side (Rechardt/Pembroke) 5:10
Heaven In A Modern World (Rechardt/Pembroke) 5:01
That's The Way (Someone Chanted Evening) (Pembroke) 4:53
CD: EMI Harvest 7243 5399112 8 (2002)
2LP: Svart Records (2018)
---
Jim Pembroke, vocals, piano
Pekka "Rekku" Rechardt, guitars, sitar
Måns "Måsse" Groundstroem, bass, backing vocals
Esa Kotilainen, keyboards, accordions & additional recordings
Jari Kettunen, drums, percussions

Pave Maijanen & Hannu Leiden, backing vocals
Mongo Aaltonen, percussions (9 & 12)

Recorded by Hannu Leiden and Juha Paaso in March 2002 at Seawolf Studios, Suomenlinna, Finland
Initiated by Wigwam
Produced by Hannu Leiden, Matti Kervinen & Wigwam
Mastered by Petri Majuri at Seawolf Studios
Backing vocals arrangements by Pave Maijanen
Windgong, mellotrons, organs & moogs recorded at Musapaja, Kuusankoski
Front cover & layout by Tehdas Numero Kolme

The best chart position in Finland: 7. (week 23/2002).
---
Titans Wheel lyrics
---
Reviews:
Tommi Liimatta, Soundi 5/2002.
Tero Valkonen, Nyt 24.05.2002.
Suonna Kononen, Karjalainen 05.06.2002.
Jarkko Nieminen, Rytmi 4/2002.
Robert Silverstein, mwe3.com August 2002.
Esa Järvi, Progressive Ears website 17.01.2003.
Claes Johansen, Nuclear Netclub 18.10.2018.