30.09. Helsinki (Tavastia)
1st set: Freddie Are You Ready | Lucky Golden Stripes And Starpose | Sandpainting | Bow Lane | Save My Money And Name | Simple Human Kindness | No New Games | Lost Without A Trace | Kabul Grill | Heaven In A Modern World | Eddie And The Boys | 2nd set: Just My Situation | Friend From The Fields | A Better Hold (Rintanen on keyboards and vocals) | Nuclear Nightclub (Hietanen on accordion) | Cheap Evening Return (Hietanen on keyboards) | Absalom | Colossus | Bitesize | Losing Hold (Tolonen on bass) | Do Or Die (vocals by Maijanen) | encores: Bless Your Lucky Stars | Grass For Blades (Hietanen on accordion; Rintanen replaced Gustavson on keys for the latter half of the song)
Lineup: Jukka Gustavson, vocals, organ, Esa Kotilainen, keyboards, Pave Maijanen, bass, backing vocals, Jan Noponen, drums, Jim Pembroke, vocals, keyboards, Pekka Rechardt, guitar. With guests: Pedro Hietanen, Mikko Rintanen, Jukka Tolonen.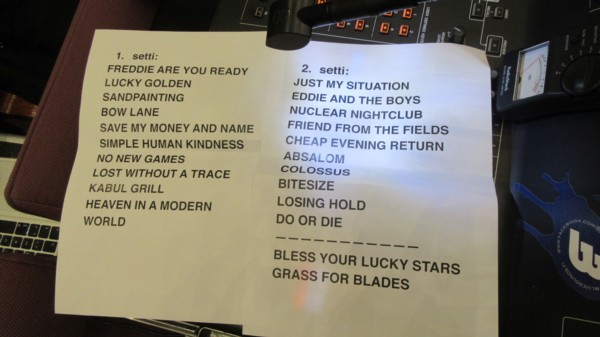 Set list from Oulu 03.10.18. Photo: Panu Johansson.