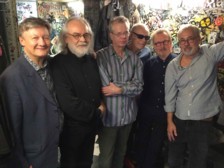 Unofficial site dedicated to a Finnish rock legend of the 1960s, 1970s, 1990s, 2000s and 2010s.
More vintage music from Finland:
Tasavallan Presidentti
News:
04.12.18: Upcoming Wigwam Experience gigs:
05.04.19 Tampere (Klubi)
06.04.19 Seinäjoki (Rytmikorjaamo)
11.04.19 Kuopio (Henry's Pub)
12.04.19 Joensuu (Kerubi)
13.04.19 Turku (Teatro-sali, Logomo)
18.04.19 Espoo (Sellosali)
20.04.19 Pori (Kehräämö)
21.04.19 Vaasa (Kaupunginteatteri)
25.04.19 Jyväskylä (Lutakko)
26.04.19 Tuusula (Krapin paja)
27.04.19 Lahti (Finlandia-klubi)
03.05.19 Helsinki (Tavastia)
04.05.19 Hämeenlinna (Suisto)
Lineup: Jukka Gustavson, Rekku Rechardt, Esa Kotilainen, Janne Brunberg, Jan Noponen.

See Soundi, Rumba, Kaaoszine.

04.11.18: New edition of Wigwam book released, with extended afterwords and updated discography!

Available from Booky, Record Shop X, Sammakko and Suomalainen.com. Visit publisher's page about the book.

03.10.18: Wigwam albums Light Ages, Titans Wheel and Some Several Moons reissued on double vinyl by Svart Records.

28.07.18: Wigwam albums Nuclear Nightclub and Lucky Golden Stripes And Starpose reissued on double vinyl with bonus tracks by Svart Records.

15.06.18: Jim Pembroke's 1977 album Corporal Cauliflowers Mental Function reissued on vinyl by Svart Records.

08.06.18: Wigwam's 1977 Dark Album released on double vinyl, including the original album and the early, rejected version. See Svart Records' page about the release.

08.03.18: Wigwam's 6 x 7" box set Complete Love Records Singles 1969-1975 released by Svart Records.

08.03.18: Jim Pembroke's 1974 album Pigworm reissued on vinyl by Svart Records.

26.01.18: Jim Pembroke's, alias Hot Thumbs O'Riley's, 1972 album Wicked Ivory reissued on vinyl by Svart Records.