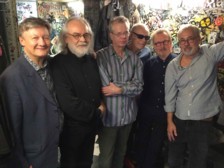 Unofficial site dedicated to a Finnish rock legend of the 1960s, 1970s, 1990s, 2000s and 2010s.
More vintage music from Finland:
Tasavallan Presidentti
News:
03.08.22: Upcoming Wigwam Experience gigs:
25.08.22 Helsinki (Huvila) - Plays Nuclear Nightclub
01.12.21: Wigwam now released as an audiobook.

Available from Adlibris, BookBeat, Elisa Kirja, Ellibs, Nextory, Storytel, Suomalainen.com, Supla.

15.10.21: Wigwam compilation Highlights from 1996 released on double vinyl by Lipposen levy ja kasetti.

09.10.21: Jim Pembroke passed away yesterday, aged 75. His last message to the fans: "Keep the Good Times Rolling." See news and obituaries on YLE, Helsingin Sanomat, Helsingin Sanomat, Ilta-Sanomat, Ilta-Sanomat, Iltalehti, Soundi (in Finnish), YLE (in English). Pembroke remembered on YLE Radio: Pekka Laineen Ihmemaa, Kadonneen levyn metsästäjät, Kulttuuriykkönen, Lux med DJ Bunuel, Toiveiden yö.

22.09.21: New Jukka Gustavson & Street Level album Natural High.

22.09.21: New Esa Kotilainen album Unisali.

22.09.21: Wigwam book also available as an ebook: Adlibris, Ellibs, Suomalainen.com.

04.11.18: New edition of Wigwam book released, with extended afterwords and updated discography!

Available from Adlibris, Booky, Record Shop X, Rosebud, and Suomalainen.com. Visit publisher's page about the book.

03.10.18: Wigwam albums Light Ages, Titans Wheel and Some Several Moons reissued on double vinyl by Svart Records.