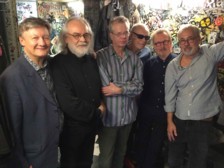 Unofficial site dedicated to a Finnish rock legend of the 1960s, 1970s, 1990s, 2000s and 2010s.
More vintage music from Finland:
Tasavallan Presidentti
News:
29.08.19: New Jukka Gustavson album Prognosis.

29.08.19: New Esa Kotilainen album Tellus.

04.11.18: New edition of Wigwam book released, with extended afterwords and updated discography!

Available from Adlibris, Booky, Record Shop X, Rosebud, Sammakko and Suomalainen.com. Visit publisher's page about the book.

03.10.18: Wigwam albums Light Ages, Titans Wheel and Some Several Moons reissued on double vinyl by Svart Records.

28.07.18: Wigwam albums Nuclear Nightclub and Lucky Golden Stripes And Starpose reissued on double vinyl with bonus tracks by Svart Records.

15.06.18: Jim Pembroke's 1977 album Corporal Cauliflowers Mental Function reissued on vinyl by Svart Records.

08.06.18: Wigwam's 1977 Dark Album released on double vinyl, including the original album and the early, rejected version. See Svart Records' page about the release.